The 30-Second Review
Whether it's for tackling the mud your kids trailed in or just annual touching up, a carpet cleaner is designed to remove deep stains and bacteria, and preserve your carpet. To find the best machine, we spoke to three cleaning experts, wantonly ruined some pristine white carpet, and embarked on a cleaning spree with 10 carpet cleaners. Our top picks knocked out tough stains while being easy to operate and hassle-free to maintain.
Best Overall
While neck-and-neck with the competition in cleaning efficiency, the Power Scrub's winning edge was its smart design: a built-in rinse mode, numerous attachments, and removable parts for easy cleanup.
Best Deep Clean
A hulking powerhouse capable of wiping out the toughest stains your carpet has to offer.
Best Budget
Bissell PowerLifter 1622
Lightweight, affordable, and capable of handling stains just as well as models twice its price.
The Best Carpet Cleaner
When it comes to smart, versatile design and easy operation, the Hoover Power Scrub Deluxe Carpet Washer FH50150PC comes out on top. The Power Scrub has a wide range of attachments, a time-saving auto-rinse feature, and separate water and solution tanks that mean no sticky measuring and pouring. Its light, 18-pound frame and extendable hose allow you to maneuver easily throughout your home, while the detachable nozzle and brushes make cleaning up the machine itself a cinch. Although matched by others for cleaning efficiency, the Power Scrub's usability is what earned it our top spot, and at $179 it's one of the least expensive machines.
The Bissell Big Green Professional Grade Carpet Cleaner 86T3 stood out for its sheer strength — this powerhouse of a machine was the only one to remove stubborn marinara and chocolate stains from our carpet, winning out on cleaning efficiency by far. However, we didn't love its big price tag ($469) or its bulky 40-pound frame, which didn't allow for smooth maneuvering. If you need to treat some serious stains, we'd recommend renting the Bissell Big Green when you know a smaller carpet cleaner won't be enough.
At only $99 and 16.4 pounds, the Bissell PowerLifter 1622 impressed us by keeping up with bigger, more expensive models — including most of its more advanced siblings in the Bissell line. Noticeably maneuverable due to its light weight, the PowerLifter managed to remove stains nearly as well as the Power Scrub for almost half the price. However, that saving will cost you a few features: This barebones cleaner doesn't come with any accessories, additional features, or detachable brushes. You'll also need to refill the water tank to rinse your carpet, and tip the machine over to clean the brushes.
How We Found the Best Carpet Cleaner
Who should and shouldn't use a carpet cleaner?Homeowners with children or pets may want to invest in a carpet cleaner. If you live in a small apartment, rent, or don't need to deep clean your carpet more than once a year, it's probably more economical to rent a machine. For cleaning natural fibers or especially large and difficult stains, it's safest to call in the pros, who use much more powerful machines and chemicals.
A quick internet search for "carpet cleaners" yields everything from professional services to chemical spray bottles. If you really want to improve stained and soiled carpet in your home, or want to keep brand-new carpet looking that way with yearly maintenance, you need a carpet-cleaning machine. Carpet cleaners are pushed back and forth like an upright vacuum while they scrub chemical solution into the carpet and then suck up the dirty water. Unlike spot cleaners, which are designed for smaller stubborn areas like pet stains, carpet cleaners are maneuverable over large spaces and may come with attachments for cleaning stairs, corners, and upholstery.
For hands-on testing, we rounded up 10 top-rated carpet cleaners — popular models on Amazon, Walmart, and Target, as well as winners of "best-of" lists on Consumer Reports and Good Housekeeping. Overall, big names such as Hoover, Bissell, and Rug Doctor dominated the list, though our finalists were a diverse bunch ranging from $99 to $469.
During our research, we identified what makes a great carpet cleaner: It tackles the toughest, deepest stains, without being a pain to use. According to Robin Foster, marketing and operations manager at Carpet Cleaning Experts Melbourne, all carpet cleaners work on the same principle: "They spray hot water into the carpet and then, with the help of a high-powered vacuum, extract the dirty liquid along with stains, dust particles, and debris, leaving the carpet clean." So all of our finalists should all be able to clean, more or less. The best needed to stand out for being simple to operate. We paid attention to special features that would make our lives easier, like included rinse modes that didn't require us to refill the water tank. We assessed our contenders on two main points:
Efficiency: We wanted cleaners to remove all traces of the tough stains in our carpet. Special cleaning modes and versatile accessories won bonus points.
Usability: Even the strongest cleaner isn't ideal if it's impossible to operate. Those easiest to operate, maneuver, fill, and clean afterward really got our attention.
First, we ruined the carpet.
Blot, don't rub.If you get a deep stain on your carpet, quickly blot off the excess (don't rub it in with water, which will spread the stain and embed it more deeply into the carpet fibers). Vacuum off any remaining loose debris, and then run over it with a carpet cleaner as soon as possible.
To really put our contenders through the wringer, we bought the whitest carpet we could find (Mohawk SmartStrand, made of synthetic triexta fibers) and treated it horribly. We purposely picked the gnarliest and most headache-inducing stains carpet owners talked about online, from viscous syrups to chunky sauces. Then we stocked up. We were unapologetically vigorous with staining to make sure that our top pick would truly be able to handle a variety of household messes. In all, we dumped 20 cups of garden soil, two jars of marinara sauce, six bottles of nail polish, one bottle of chocolate syrup, two bottles of red wine, and 10 cups of coffee into the carpet. And we let it sit in a warm room for four days. We did stop in once or twice to "well-meaningly" scrub the stains with water — a common first response in the aftermath of a stain — since this doesn't actually remove stains, but tends to set them further.
Then we went on a cleaning marathon.
To put all the finalists on an even playing field, we tested them all on the same day, following their respective user manuals closely from setup to teardown. As recommended by user manuals and several of our experts, we vacuumed up any loose debris beforehand, and got to cleaning up our mess. We allotted 5 minutes for cleaning, and 2 minutes for rinsing (if the user manuals recommended rinsing, which most did).
Immediately, we started seeing big differences in usability among the models. Some tanks, like the Hoover Power Scrub, were a breeze to fill, while others were just plain awkward. The Dirt Devil's tank, with a tiny opening located in the center of the back, meant we had to keep closing and flipping the tank upright to see if we had reached the fill line. After setup, the worst offenders required another person to help position the tank, and/or went on to spill water and solution on the carpet, hallways, and our shoes (we're talking about you, again, Dirt Devil). Fortunately, we found setting up the Hoovers, Bissell Big Green, and Rug Doctors to be straightforward and spill-free.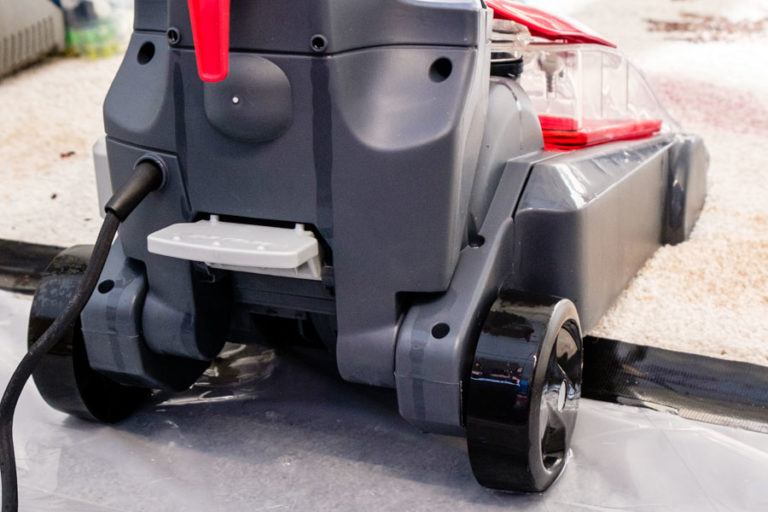 While cleaning, we also made some disappointing discoveries. First, every single machine was blaringly loud, to the point that we had to shout in order to hear each other. You'll definitely want to give everyone in your household a heads-up before you unleash a roaring Rug Doctor. Second, though all of the contenders left the carpet whiter than before, most failed to get out the last few smudges of greasy marinara sauce and sticky chocolate syrup. And none of our contenders were able to clean up the dried nail polish — almost all, with the exception of Big Green, didn't lighten this stain in the slightest. A convincing advertisement for your local nail salon, but also a good reminder that some especially tough stains need professional attention.
Finally, we cleaned the cleaners.
What about chemicals?Because cleaning solution is a fragranced product, manufacturers aren't required to disclose exact ingredients. We didn't experience any problems with the cleaning solution while using the machines or during disposal, but to protect yourself and the environment from potential allergens and toxins, make sure the area is well-ventilated and that you dispose of wastewater down a toilet or sewer-connected drain.
After cleaning the carpet, we also needed to clean the machines — much easier said than done. This is when the great vs. not-so-great designs really became apparent.
Many didn't have removable brushes or nozzles so we could clean out built-up gunk from the machine itself, so we had to tip them over, get down on the ground, and poke around in all the nooks and crannies with… whatever we could find. (You may want to buy a nozzle cleaner (Bissell, $1.25) to remove debris.) The worst models took way longer to clean off than they took to clean the carpet (Hoover Dual V Steam Vac All Terrain, Bissell ProHeat 2X Premier, and Bissell DeepClean Deluxe Pet were all cleaning disasters), while the best, such as the Hoover Power Scrub and Bissell PowerLifter, came with detachable parts for easy rinsing, or extra tools for cleaning difficult areas.
What really ended up separating the winners from the rest was good design that left the carpet satisfyingly cleaner and our testers headache-free.
Our Picks for Best Carpet Cleaner
As we anticipated, most of our finalists cleaned our carpet to a more or less respectable finish (the Big Green provided the only exceptionally clean outlier, and the Dirt Devil the only profound disappointment). But the Hoover Power Scrub Deluxe Carpet Washer FH50150PC ($179) stood out as the top contender due to its abundance of easy-to-use features and accessories. If you're in the market for a machine that'll help you clean up moderate staining with minimal difficulty, the Power Scrub is ready to go.
At 18 lbs, the Power Scrub was one of our lightest contenders and had a maneuverable heft similar to that of the average upright vacuum. Our testers also appreciated the fact that its clean-water tank was designed to hold solution and water in separate compartments. This turned out to be a pretty nifty feature, as all the other machines required us to measure out the solution, often messily, into specific quantities before mixing them in the clean water tank. The Power Scrub was also one of only two contenders (the other being the Hoover Dual V) with an auto-rinse feature that didn't require us to refill the clean water tank. This was definitely a perk for our testers, who didn't relish trudging to the sink and back with heavy water tanks over wet carpet. The only feature that kind of flopped was the much emphasized "heated cleaning" capability that claimed to quickly dry the carpet with heated air. We didn't feel any real differences in carpet dampness post-cleaning, so the feature seemed somewhat irrelevant.
During assembly (which simply required screwing in the cord holster), we were surprised to see the Power Scrub came with a veritable army of cleaning tools. Most of the other machines came with one or two (an extended hose and upholstery tool being the most common), but the Power Scrub's mesh bag contained: an extended hose, upholstery tool, crevice tool, stair tool, and powered scrubbing hand tool.
The Power Scrub outshone the competition in usability: It was by far the easiest machine to clean with and clean out. Both its nozzle and brushes popped out easily for rinsing, which felt like a blessing after having to kneel on the floor and dig around in the other Hoovers' and Bissells' dirty brush rolls (the
Bissells' unique side bristles also actually just rubbed any loose dirt and debris into the carpet during cleaning).
If you want to tackle a variety of stains without wrangling a bulky machine, and you don't throw bottles of chocolate sauce or nail polish on your carpet and neglect it for several days, the Power Scrub is our top pick. It comes with a 1-gallon tank, a 10-amp motor, and a 2-year limited warranty.
If your carpet needs a super-deep clean, we recommend looking into the Bissell Big Green. To be fair, most people probably don't treat their carpet as badly as we treated ours. But as we rinsed out the last water tank and surveyed our weary carpet, it was clear that the Bissell Big Green Professional Grade Carpet Cleaner 86T3 ($469) was up to the challenge of even our malicious staining. Where light orange and brown spots clung stubbornly to the other test patches, the Big Green impressively eliminated all traces of marinara sauce and chocolate syrup within 5 minutes. To our surprise, it did even better than the Rug Doctor, which was disappointing considering that brand's reputation for deep cleaning.
The Big Green's large, smooth surfaces and clear-stacked clean and dirty water tanks (1.75 gallons each) made cleaning a breeze. It also won bonus points in a few other categories: It came fully assembled, and included a 12-foot hose and 6-inch-wide tool for scrubbing upholstery, stairs, and weaker stains by hand.
However, the Big Green's pure stain-lifting power comes with a few serious trade-offs: At 40 pounds and $469, it is both the heaviest and most expensive of our contenders (compared to the overall average of 25 pounds and $242). The Big Green is definitely the Hulk of carpet cleaners, and at that size and price point, we think it might make more sense to rent when needed rather than buy. If you often need to tackle deep stains (especially greasy or sticky horrors), though, the Big Green is up for the challenge.
The Bissell Big Green comes with a 1.75-gallon tank, a 12-amp motor, and a 5-year limited warranty.
The Bissell PowerLifter 1622 ($99) is a barebones machine that will clean your carpet without being too heavy on your arms or pocketbook. At just 16.4 lbs, the PowerLifter was easy to push around even for petite testers (who, by contrast, struggled to continually push the Bissell Big Green and Rug Doctors around even for a few minutes). Testers agreed that it was about as hefty as "a lightweight vacuum," and didn't cause discomfort with extended use.
We were pleasantly surprised to find that despite its size, the PowerLifter cleaned about as well as the more expensive Hoovers and Bissells (although none came close to the Big Green). As long as your main concern is just lifting light to moderate stains from your carpet, the PowerLifter will do a decent job for a great price. However, if you're also hoping for a machine that will allow you to clean upholstery, corners, and stairs, you'll want to consider the Hoover Power Scrub instead. The Bissell PowerLifter is truly no-frills, with no extending hose, additional accessories, or even sample cleaning solution (every other machine we ordered came with at least an 8-ounce bottle).
While the PowerLifter's nozzle popped off easily for rinsing, we found a bunch of fuzzy, dirty gunk caked on the roof above the non-detachable brushes that was hard to access and pretty gross. We didn't bear too much of a grudge against the PowerLifter for this, though, since we discovered that cleaning almost all carpet cleaners can be unpleasant and difficult and we were able to scrape most of it off.
Always finish with rinsing. Rinse your carpet after cleaning to remove any traces of detergent, which can leave your carpet hard and sticky if it dries. Some machines auto-rinse while cleaning, but make sure to read your user manual carefully to see if you have to refill the clean water tank.
The biggest flaw of the PowerLifter, in our opinion, was the lack of a built-in rinse mode. But it wasn't alone: the Hoover SteamVac, Bissell ProHeat, Bissell Deluxe Pet, and infamous Dirt Devil all required tank refills as well. We found this pretty time-consuming, and were disappointed that cleaners ranging from $99-$300 lacked this simple time-saving feature. The PowerLifter's user manual didn't call for rinsing, but the carpet felt distinctly crunchy after drying, so we'd recommend rinsing anyway.
The PowerLifter comes with a 0.75-gallon tank, a 6.25-amp motor, and a 1-year limited warranty.
Did You Know?
Check your carpet (and your warranty).
Natural fibers such as wool and silk, and especially thick fabrics (such as shag rugs), should always be professionally cleaned.
Synthetic fibers, such as nylon and triexta, can and should be cleaned regularly. According to Jeff Bishop, Director of the Institute of Inspection Cleaning and Restoration Certification (IICRC), "Around 95-97 percent of carpet today is made with minimally absorbent synthetic pile fiber (i.e., nylon, polyester, triexta, olefin). Fibers are polymers – plastics – and water doesn't harm them." Just be careful not to over-wet your carpet, or forget to rinse out residual detergent, which might cause your carpet to quickly resoil.
Many carpet warranties require deep cleanings every 12-18 months, but in some cases, using a carpet cleaner can actually void your warranty. Be sure to read the fine print.
Get the most out of your carpet cleaner.
Vacuum first and last: For a deeper clean, vacuum your carpet before cleaning. Bishop told us it's important to begin the cleaning process with "dry soil removal – vacuuming carpet to remove as much hair and lint, and particle soils (e.g., sand, quartz, gypsum, limestone, carbon, clay) as practical." After the carpet has been cleaned and is completely dry, vacuum again to pick up any remaining debris.
Slow and steady wins the race: Move the carpet cleaner slowly and deliberately. The slower you go, the more thorough the cleaning process will be.
Clean your cleaner: To keep your machine running properly, clean the brushes regularly. Make sure it isn't clogged up with debris, especially hair.
Keep it consistent: Angie's List suggests deep cleaning your carpet every 12-18 months, depending on the size of your household and how heavy soilage tends to be. For higher-traffic areas, you may need to clean more often.
Don't mess with wet carpet
Don't run your machine over wet carpet. We learned this the hard way: Your machine may chew up and spit out wads of wet fuzz. And avoid walking on your carpet while it's drying. Try to time your cleaning session so it doesn't interrupt the normal traffic of your home. Bishop explained, "With moderate temperature and humidity, drying should occur within 4 to 6 hours."
The Best Carpet Cleaner Summed Up
Source link