The 30-Second Review
Even if your credit is already good, the best credit report service will help you make it even better — and also monitor your identity to ensure nothing is happening to make it any worse. We worked with three financial experts and spent 19 hours testing top services to find which had the most robust monitoring, the most comprehensive educational materials, and the slickest toolkits to help improve our credit scores.
Best for Improving Your Credit Score
Comprehensive and interactive simulator tools let you both monitor and predict your future credit score. ($30 per month)
Best for Monitoring Your Credit Score
IdentityForce
Fewer predictive tools than myFICO, but with robust monthly tracking tools. And at $20, IdentityForce is cheaper than myFICO if you're more interested in monitoring your score than changing it.
Best for Guided Help
The best and most in-depth guidance for credit questions, without the sophisticated mobile capabilities of our other picks. ($17 per month)
The Best Free Credit Report Service
AnnualCreditReport.com
Federally-approved and free for the most bare-bones reporting, no added monitoring or guidance.
January 25, 2018 – In this update, we've condensed our review and provided up-to-date information regarding bill H.R. 5282. While we are still confident in our top picks, keep an eye out for further testing in the coming months.
February 3, 2017 – In January of 2017, the Consumer Financial Protection Bureau fined Equifax and TransUnion $23M for false advertising. While this doesn't impact our top picks, the settlement does impact consumers, most notably any who paid for scores from either bureau (and are now due $17M in restitution). We've updated our reporting and added a breakdown of the Comprehensive Consumer Credit Reporting Reform Act, which calls for even further reform. We also updated pricing: Identity Guard and IdentityForce dropped their subscriptions to $15 and $20 per month respectively. We also looked at Quizzle. It was cut for not offering info from all three bureaus.
The Best Credit Report Service
If you're looking for a simple, free option for accessing your credit report, If you're looking for a simple, free option for accessing your credit report, AnnualCreditReport.com is a good starting point. You're legally guaranteed one report from each of the Big Three credit bureaus every year, and AnnualCreditReport.com the federally-approved, free way to get them. The downside? This service offers just the reports — row after row of years, months, and dates that can be tricky to understand if you don't know what you're looking for. It's a great way to get a sense of where you're at credit-wise before shelling out for a paid service, but don't expect a user-friendly experience.
If you're on a more specific credit mission, you should know that your options fall into two categories: services that are focused on improving your financial health and those that are focused on protecting your identity (often the first sign of identity theft will appear on your credit report).
myFICO sits pretty firmly in the first camp (although it does include extensive monitoring of your personally identifying information). All of myFICO's signature features are geared toward helping you improve your credit score, from a slick simulator tool, to a killer app that tracks your every credit move, to a rich suite of educational tools. It'll cost you $30 a month, but if you're looking to make great strides in improving your credit score, or just want to see how high it can go, myFICO is your best bet.
IdentityForce is an identity theft protection service first. But if you're happy with your credit score and mostly want to keep tabs on it, IdentityForce is $10 per month cheaper than myFICO and offers all the essentials. You get mobile alerts for major changes to your credit, direct access to all three of your credit reports, and a basic Credit Score Simulator to help you learn how to improve your credit. IdentityForce's features aren't quite as flashy those from myFICO, but the service left us feeling comfortably up-to-date without being overwhelmed.
A final option is Identity Guard. Like IdentityForce, it's marketed as an identity theft protection service but includes a comprehensive range of credit monitoring tools: mobile alerts, credit score simulator, and access to your reports. It also stands out for its unmatched instructions and educational materials. Need to submit a credit dispute? Identity Guard will walk you through the process. Not sure you've filled out your profile correctly? Identity Guard will let you know what still needs to be done. If you're already comfortable with technology, this might be more help than you need, but it's great reassurance if you're feeling a little uncertain. is a good starting point. You're legally guaranteed one report from each of the Big Three credit bureaus every year, and AnnualCreditReport.com the federally-approved, free way to get them. The downside? This service offers just the reports — row after row of years, months, and dates that can be tricky to understand if you don't know what you're looking for. It's a great way to get a sense of where you're at credit-wise before shelling out for a paid service, but don't expect a user-friendly experience.
How We Found the Best Credit Report Service
"Most of the time, people use credit report sites when they have a major life event coming up, like wanting to get a loan to buy a home or a car, or to make home renovations," Meka West, founder and CEO of Penny Smart Girl, explains. This is because lenders often consult credit reports and credit scores before determining what rate to offer you. But checking your credit report now — and making improvements to your score based on what that report tells you — can save you a lot of money later.
Whether you choose a free credit report site (like AnnualCreditReport.com) or a paid service, the best provides you information from your credit report. It also helps you understand that information and take steps toward improving your credit. To find the best credit report service, we rounded up 23 widely-available credit report companies and spent 19 hours testing them out to see which offered multiple report options, the most comprehensive monitoring, and the best educational materials.
First, we cut services that didn't offer info from each of the Big Three Credit Bureaus.
"Monitoring only one of your three credit reports is like locking one of the three doors to your house," says John Ulzheimer, a credit expert who has worked for both Equifax Credit Information Services and FICO. Experian, Equifax, and TransUnion — often known as the "Big Three Credit Bureaus" — use different information to compile their reports. It's important that each report is accurate, since you don't know which bureau a landlord or lender is going to reference.
Because of this, we said goodbye to any service that didn't report on each of the Big Three. (And yes, that means each of the Big Three was cut here since they only report on themselves.)
Note: In January 2017, Equifax and TransUnion were ordered to pay over $23 million in fines and reparations to customers for false advertisement (we have all the details here). If you used Equifax or TransUnion's in-house tools to check your credit score in the past decade, there is a good chance you received different scores than those used by banks or credit card companies to evaluate your risk.
Both bureaus are in the process of altering their marketing practices to comply with the order — Equifax even told the LA Times it agreed to begin changing its practices when the investigation began in 2013 — and we will stay abreast of any changes. For now, we prefer credit reporting services that include information from all three major bureaus.
We also wanted to see credit scores from the Big Three.
You may be asking — what's the difference between a credit report and a credit score? Meka West gave us a great summary: "The credit report gives you a full picture of your financial activity, history, and how you've managed your financial choices so far. The credit score is your grade of how well you've managed that history." The two big names in credit scores are The Fair Isaac Corporation, now known as FICO, and VantageScore, which was developed by the Big Three Bureaus.
The best credit report service will include credit scores from the Big Three, because it's entirely possible that each bureau has a different credit score. Jeff Rose, certified financial planner, founder of Good Financial Cents, and author of the best-selling book Soldier of Finance, explains: "First, they may be working off of slightly different information. Not every creditor reports to all the bureaus and, even though they are good at picking up that information, they do not always have all the same info. Second, each bureau weights credit activities slightly differently. So if you missed three payments on a bill six months ago, one bureau might penalize you a little more harshly than another."
Case in point: in our tests, two bureaus gave us Very Good scores while the third scored as a few points lower, ranking us only Good. As with the credit report, it's impossible to know which score a lender may be looking at — or what may need improvement. We cut any service that didn't reveal credit scores from all three.
We favored services with comprehensive monitoring, as well as educational tools.
With seven companies remaining, we turned a closer eye to two big metrics: monitoring tools and education resources.
When it comes to monitoring, a good service needs to to have one eye on your credit and one eye on your identity; that is, it tracks new additions to your credit report and changes to your credit score, and also tracks activity on your credit cards and bank accounts to alert you of fraud. The best services also attempt to prevent identity theft by tracking Social Security numbers, driver's license numbers, passport numbers, and more.
From an education standpoint, the best service also needs to provide tools and resources to help you improve your credit, protect yourself from a potential identity theft threat, and understand how credit fits into your larger financial picture.
Credit Report Services vs. Identity Theft ProtectionThere's a lot of overlap between the two. In fact, a couple of our picks actually market themselves as the latter. That's because so much of your identity is attached to your credit: often if your personally identifying information is stolen, the first signs of trouble will be reflected in your credit report, be it a bogus account or notice of debt collection. Read more in our review of best identity theft protection services.
We ranked our last seven candidates on their monitoring tools (including credit queries and fraud alerts) and educational tools (including credit calculators, helpful blog posts, and online forums). Four of them — PrivacyGuard, CreditCheckTotal, TrustedID, and FreeScoresAndMore — didn't provide enough monitoring and educational tools to stand out. CreditCheckTotal, for example, has just a glossary, which you can only access via a small site map button at the bottom of the page.
TrustedID and FreeScoresAndMore fared slightly better than Privacy Guard and CreditCheckTotal in these rankings, so we dove deeper into their customer service. When we found out that both had social media dead zones, with Twitter and Facebook profiles that hadn't been updated in years, we knew that they weren't going to provide the top-level service we were looking for. (@trustedID even looks like it was a victim of identity theft after it stopped posting official updates in 2013 — not a good sign for a company tasked with protecting your identity!)
That left us with three top services — Identity Guard, MyFICO, and IdentityForce — although we also explored AnnualCreditReport.com for reasons we'll discuss below.
Our Picks for the Best Credit Report Service
Best for Improving Your Credit Score
myFICOBy-the-minute credit score updates make this a powerful resource.
If you're looking for a credit report service because you want to get your credit as high as it can go, myFICO is your best bet. It's directly associated with FICO, the most widely used credit score system — even other credit report companies will typically include your FICO score. MyFICO is a subscription site, so you'll be paying $30 every month to access its features — $10-15 more a month than our other top picks. But in exchange, it offers unmatched resources to help boost your score, rather than just access it.
myFICO's Score Simulator shows how simple actions, like paying just a bit more on your credit cards, can make a big difference. The Score Simulator also lets you see how your score might change if you consolidate your credit card balances, apply for new credit, take out a mortgage, and more. It even shows you how your credit score will change over time if you do nothing (except paying your bills and making credit payments on time). If you're hoping for a better interest rate a few months down the road, use the Score Simulator to see what you can do in that time to improve your score. This tool alone is a standout — no other service we tested came close to providing this level of financial understanding.
MyFICO also sent the most comprehensive series of alerts and updates. You can elect to receive updates via email, text message, and mobile app notifications on anything from good news (your credit score has improved!) to bad news (your identity may have been compromised!). However, these alerts aren't without their hiccups: During our testing, we received three potential identity theft alerts on information that was several years out of date, as well as a fraud alert on an expired credit card. None of the other contenders we tested flagged these "potential identity theft" issues, and although we appreciate myFICO's attempt to thoroughly scan black market websites, waking up to three texts that all turned out to be false alarms wasn't a fun user experience.
You know what is fun? The myFICO app. You can log in and watch your FICO Score 8 increase — and trust us, myFICO will let you know the minute it gets higher. We got credit score improvements after making a big payment on one of our credit cards, which is exactly the kind of positive reinforcement that can motivate people to pay down debt. The app also includes an identity theft alert section and an option to review your FICO Score 3B (all three bureaus' scores) and Identity Analysis report. The only thing it's lacking is direct access to the myFICO forum, which was one of our favorite myFICO features: a way to discuss methods of improving credit or boosting personal finance skills.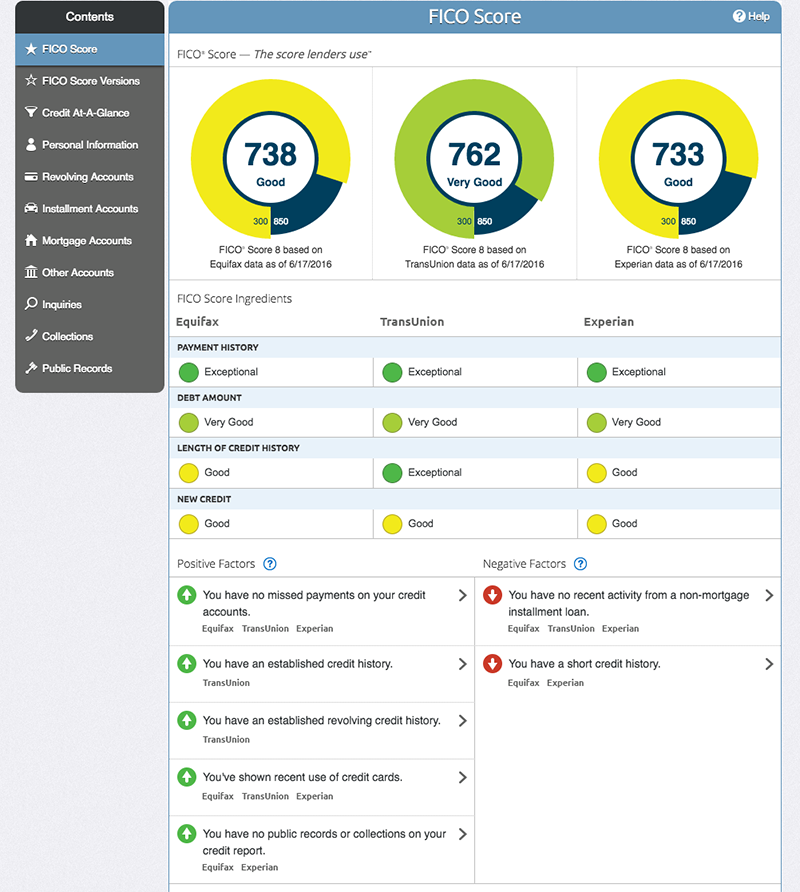 The credit report section of myFICO is also set up a little differently than some of our other contenders. Instead of tasking you with reading through all three credit reports yourself, it gives you a top-level overview, highlighting the most important information. You can go through each aspect of your credit report more carefully by clicking through the table of contents. It's a simple tweak that makes myFICO feel more accessible.
That's right: you don't get to see your actual credit report through myFICO, but what it provides is in many ways easier to understand and navigate than a credit report, which can include an overwhelming amount of data without context. (Think rows of tiny red and green boxes combined with abbreviations like "UNIVERSAL CD CBNA.") Instead, myFICO explains your credit history: what's good, what's bad, and what each of the Big Three thinks of you. If you want to see the actual reports yourself, you can get them each year for free through AnnualCreditReport.com.
Best for Monitoring Your Credit Score
If you're interested in keeping tabs on your credit but don't need to aggressively improve your score, IdentityForce is top notch. Its educational resources aren't as robust as myFICO's, but it's also cheaper: Its UltraSecure + Credit plan is only $20 per month — or $200 for a full year if you're willing to commit up front. (The company does offer cheaper plans, but these provide identity protection only, no credit services.)
Upon login, you'll see a list of open bank and credit card accounts, plus summaries of your payment history and recent credit inquiries. Like myFICO and Identity Guard, you get access to your score from all three bureaus, along with a monthly tracker that monitors any changes. The tracker comes with a brief overview of factors influencing your credit. IdentityForce also provides links to all three bureaus' dispute forms, so you're not left wondering what to do if you notice a mistake on one of your reports.
IdentityForce does have a credit score simulator as well, but it's less detailed than myFICO's. While you can use it to determine how actions like adding a credit card, eliminating a balance, or making on-time payments will impact your TransUnion score, the simulator doesn't offer these services for your Equifax and Experian scores. This was annoying, but ultimately not a deal breaker: If an action raises your score with one bureau, odds are good that it'll do the same with the others.
IdentityForce's mobile alerts were useful, customizable, and accurate. You can opt to receive email or text notifications if a purchase, withdrawal, or transfer is over a certain amount, and you can also be alerted if any new accounts are opened in your name. We received fewer false flags with IdentityForce than we did with myFICO, which sometimes sent us alerts about old accounts that were no longer active. And if you do find yourself getting inundated with texts, you can change or turn off these notifications under your account settings. It's worth noting, however, that IdentityForce doesn't offer a mobile app or a very mobile-friendly website. You can get alerts of any major activity sent to your phone, but viewing your reports and scores may have to wait until you're near a computer.
As far as educational resources, IdentityForce's are fairly basic. An FAQ section provides some assistance if you're new to credit management and want an overview of important concepts, and phone, email, and live chat services are available if you have lingering questions. Because IdentityForce doesn't specialize in credit, its tools and resources are ultimately more geared toward identity protection. (If you're interested in learning more about these services, check out our review of the best identity theft protection services.)
The bottom line? If you just want to make sure nothing fishy is going on, IdentityForce is probably all you need. If you want in-depth insight on how to improve your score or crave step-by-step instructions, read on to learn more about myFICO and IdentityGuard.
Best for Guided Help
Identity Guard®The most hands-on experience of the bunch, with lots of step-by-step instructions.
If you're the kind of person who always makes sure the oven is turned off before you go to sleep (even if you didn't use the oven that day), you're going to love Identity Guard. Like our top picks, Identity Guard is a subscription site — free for the first 30 days and $17 for each subsequent month. It's an easy-to-navigate credit report and identity monitoring service that takes you step-by-step through every aspect of its system and tells you when you've reached maximum protection.
After you enter your Social Security number, for example, Identity Guard gives you these soothing words: "You don't need to do anything to increase your protection level for your SSN." Identity Guard also sent us a peace-of-mind email after we finished setting up our credit monitoring: "There is nothing you need to do at this time. No action is required of you." Once you've created your account, Identity Guard's dashboard makes life easier with a central overview of all your active protection and flags any area that still needs setup.
Let's say something does happen and you need to take action; maybe you find a mistake on your credit report and want to correct it. All of our contenders give you the option of reporting errors on your credit report, but Identity Guard provided the most comprehensive explanation of how the dispute process works: The bureaus have 30 days to respond to your dispute, and they're required to remove anything they can't prove is accurate. If they do prove the information is correct (that is, if your dispute fails), you can ask them which institution helped verify that info. If the credit-dispute process feels overwhelming, Identity Guard also includes an entire section titled, "Don't Give Up."
While Identity Guard has all the features you need to monitor your credit report and protect your identity, it's missing a few of the extras that myFICO provided. Its phone app is pretty bare-bones (you can check your credit scores and make note of any alerts, but that's it), and its educational section is equally basic. But out of the services we tested, it's by far the best at providing peace of mind.
Best Free Credit Report Service
However, AnnualCreditReport.com is the only source for your free credit reports, and it's authorized by federal law; it says so right on the site. If all you need is the bare bones of your credit report and you don't want to pay up for fancier services, AnnualCreditReport.com will serve you just fine. However, the design is severely outdated, making it difficult to navigate, and getting our free credit reports was a slow and frustrating process.
AnnualCreditReport.com is jointly run by the Big Three Bureaus in order to comply with the Fair and Accurate Credit Transactions Act of 2003, which requires that there be a website through which a person can access all three of their credit reports for free. Although it doesn't fully pass all of our criteria (it only provides credit reports, not credit scores), it's still a valid option for the basics.
Despite our reservations, there are a lot of good reasons to use AnnualCreditReport.com as your credit report service, starting with the whole "Authorized by Federal Law" thing. Yes, you miss out on a lot of features that other services provide, including apps, forums, and step-by-step guides to filing credit disputes. You also miss out on identity theft protection and immediate alerts when something on your credit report has changed. But you do get one free annual credit report each from Equifax, Experian, and TransUnion per year — and if you stagger these reports over a 12-month period, you can check your credit report every four months.
Be aware that your free credit report is exactly what it sounds like: a long, sometimes confusing report. "The credit report you get for free annually is nothing more than data. There are no scores and there is no advice or analysis," Ulzheimer reminds us.
For some people, that's enough. For people who want to improve their bad credit but don't have a lot of extra cash, this might be the best option. Jeff Rose explains: "If you have bad credit, you can save the money for monitoring and just pull your credit reports from AnnualCreditReport.com. Use all the information on your reports to go and fix all the stuff that is dragging your score down. Once you get all that cleaned up, you can move into the monitoring stage and watch as your score rises over time."
AnnualCreditReport.com is a little more time-consuming than a paid credit report service. You'll need to remember when to request your next credit report; you'll need to review the information yourself; and you'll need to do your own work to figure out how to improve your credit. AnnualCreditReport.com helps you out by providing useful guides on what to look for in your credit report and how to report identity theft. Once you're done reading those guides, you have an entire internet of resources to help you on your DIY credit-improvement journey. We suggest starting with myFICO's blog.
Did You Know?
There's a 20 percent chance your credit report has errors.
In 2012, the FTC completed a study that revealed one in five people had an error corrected on at least one of their credit reports, so don't be surprised if you see something that doesn't look right.
If your credit report has errors, a good credit report service will provide instructions to help you start a dispute process. All of our top contenders included this resource, although the level of "instruction" varied significantly. Identity Guard gave us paragraphs of text on what to expect, and AnnualCreditReport.com connected us to the Consumer Financial Protection Bureau for more information. MyFICO and IdentityForce just gave us links to the Big Three Bureaus' dispute sites — but that's often enough to get the process started.
Watch out for "credit repair" companies.
If you're looking to repair your credit in a hurry, you might be tempted to sign up with one of the numerous credit repair companies out there. Be very, very careful before paying someone to repair your credit. There are a lot of credit repair companies ready to take your money without providing any actual help, and in many cases they're doing the same things you can do for free, such as reporting incorrect information to the credit bureaus. A good credit report service shows you exactly how to improve your credit, whether by disputing information or by making larger payments on your outstanding debt. The FTC reports that in some cases credit repair companies provide false information to the bureaus or use identity theft to get you a "new credit identity," and you'll both be in trouble if the credit repair company gets caught.
The credit reporting — and scoring — landscape is due for change.
On May 19, 2016, Comprehensive Consumer Credit Reporting Reform Act, otherwise known as bill H.R. 5282, was introduced the House of Representatives. It called for stiffer regulations to protect consumers from common errors like poor file-keeping by creditors, inaccurately reported payments from credit bureaus, and the re-aging of old debts. This bill was one of the of the biggest efforts to improve national credit reporting and scoring standards to date. In the words of Representative Maxine Waters (D-CA), if it passed it would "bring much-needed accountability to the credit reporting industry, which will enhance consumer and creditor confidence in the integrity of information on reports and restore fairness in the system."
While the bill was ultimately not enacted, the 202-page document covered seven primary reforms, many of which point to the shifting landscape of credit reporting:
Free credit scores, not just reports. The bill required that consumers receive annual credit reports reports (from AnnualCreditReport.com) and credit scores, not just the reports. If you're going the DIY route, getting your scores for free, not just your reports, is a game changer.
Reduce the time the most harmful credit information lives on your report. Late payments and chapter 13 bankruptcies currently remain on record for seven years. In the bill, that term would be reduced to only four years — and chapter 11 bankruptcies would only appear for seven years instead of 10.
Regulate credit scoring. Consumer reporting agencies have only been supervised at a federal level since July 2016, but not regulated. This bill would give the Consumer Financial Protection Bureau "explicit authority" to monitor the development of the credit scoring models used by all major credit bureaus.
Prohibit the use of credit history in hiring decisions. Currently, federal law allows employers can run credit checks (as part of a standard background check) on applicants.
Transfer the burden disputes from the consumer to the creditor. Filing a credit dispute is kind of like being your own private investigator and prosecutor. You have to recognize the error, procure copies of all necessary documentation, build a compelling case, and file your dispute with the Consumer Financial Protection Bureau. You'd still be responsible for surfacing complaints under the bill, but the difference is that creditors would handle all the dirty work of proving your dispute.
Give private student loan borrowers more flexibility. Currently, federal student loan borrowers can request adverse information, like a late payment, be removed from their reports after making consistent payments for a certain time period — under this bill, private loan borrowers would get the same benefit.
Provide extra relief services to victims of predatory lending. To help rehabilitate victims of predatory lending practices, the bill would prohibit consumer reporting agencies from furnishing (publishing on your report) adverse items that relates to those practices, like loan packing or risk-based pricing.
And although the bill wasn't enacted, some proposed changes were already set in motion by a 2015 national settlement agreement. The settlement required credit reporting agencies to institute increased protections for consumers — some on a national level — over the course of three years. The settlement already requires similar federal regulation of credit score models and extra relief to victims of predatory lending outlined in H.R. 5282. It also requires:
Improving the dispute process. Right now, computers handle a majority of the decision making for surfacing or killing disputes. This agreement requires that all credit reporting agencies employ specially trained humans dedicated to evaluating complaints involving fraud, mixed files, and identity theft.
A longer grace period for medical debts. Moving forward, credit reporting agencies will institute a 180-day waiting period before medical debts can be reported, giving the consumer more time to handle problems like insurance snafus before they negatively impact credit.
Equifax and TransUnion were fined for false advertising, and they're fixing it.
According to the Consumer Financial Protection Bureau's report on January 3, 2017, Equifax and TransUnion had been luring customers into expensive credit services by claiming they were free or only $1, but in fact cost more than $200 a year. Many of those customers were automatically enrolled in a subscription program and charged recurring fees ($17 of the $23 million CFPB fine went back to customers for restitution).
Customers were also misled into thinking that the educational scores they received were the same scores that lenders were using to make credit decisions. The scores consumers saw were educational scores or in-house scores, not FICO scores. FICO scores are calculated by the Fair Isaac Corporation (the company that invented the credit risk score) using data from the three major bureaus — Equifax, TransUnion, and Experian — and all credit reporting bureaus (CRAs) have to pay Fair Isaac to run FICO scores. To minimize costs, CRAs developed their own credit-scoring models, thus the educational score.
Lenders typically use FICO scores, not educational scores. And while educational and FICO scores are often very similar in value, they're not always. It's possible to have as much as a 100-point difference, enough to knock you a couple rungs down the credit ladder.
This does not mean that your FICO score is tainted. It does means that many Equifax and TransUnion customers were enticed to pay for educational scores that weren't used by lenders and didn't accurately reflect their credit health.
While this information is incredibly frustrating, both companies have agreed to modify their marketing practices in compliance with the Consumer Financial Protection Bureau's order. You can read both consent orders here and here.
More Credit Report Reviews
We've been looking into credit report services for a few years now, and you can check out some of our other reviews. They aren't consistent with our latest round of research (yet!) so be on the lookout for updates in the upcoming weeks:
The Best Credit Report Service: Summed Up
Source link